Products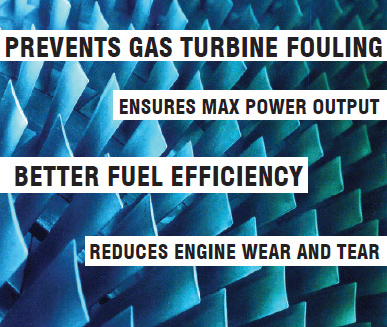 This revolutionary Turbo-K "Super-Cleaner" with the very latest surfactant technology prevents compressor fouling and restores turbine power to 100% efficiency.
Regular on-line and off-line washing is known to provide:
Reduced fuel costs
Reduced costly downtime and production losses
Longer hot section components life
Lower maintenance costs
Reduced cost of operating standby plant to make up shortfall
Investigation and trials by the US Military between 1993 and 1996 proved that on-line washing with correctly formulated water-based detergent could substantially fully restore power to 100% of the original. The US Military also concluded that on-line washing was intrinsically more cost effective; while at the same time it totally eliminated the effluent disposal problems. Downtime for engine cooling was abolished and the period between necessary gas turbine shut-downs for off-line washing (crank-wash) would be extended, thus reducing costly downtime and production losses.